10 Before And After VFX Scenes In Bollywood Films That'll Leave You Impressed
Do you ever look at a specific scene from a movie and wonder 'HOW DID THEY MAKE THAT HAPPEN'? Well, Bollywood's adapted technology with extreme ease and expertize and they managed to create some of the most epic scenes with the help of it.
However, it might interest you to know how the same scene looked like without the use of 'green screen' aka VFX.
Here are some of the most iconic Bollywood scenes that'll change your perspective towards what you see on the screen:
1) Remember the fight scene from 'Once Upon A Time In Mumbaai'? Well, I a sorry for breaking the bubble for you but there wasn't any train on the spot, just a green screen on the railway track!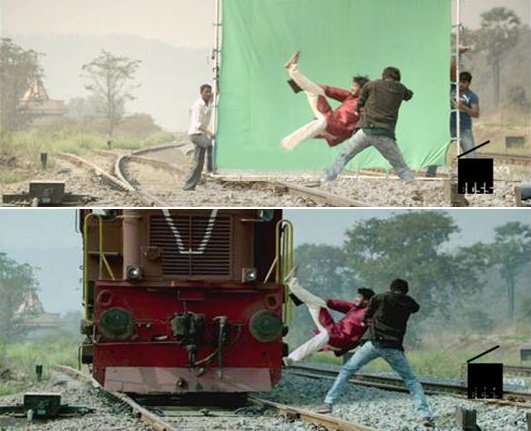 2) Salman Fans, you'd probably be a little disappointed to know that Bhai didn't really cross the railway track with all that swag because, again, there was no actual train. All his fans who tried doing the stunt and injured themselves, the joke's on you guys!
3) Remember the bike chase from 'OMG! Oh My God' where Paresh Rawal sits behind Akshay Kumar? The bike going full power mode, cutting through all that traffic on the roads of Mumbai, well, there was no traffic or a road for that matter. Just a green curtain that was going to change everything about that scene.
4) Were you jealous of the view that was shown while Deepika was grooving in her balcony, living her life in the movie 'Cocktail'? Well, you wouldn't be that jealous if you knew the actual view was this and not the beautiful city that was shown. She grooved to a green curtain, guys.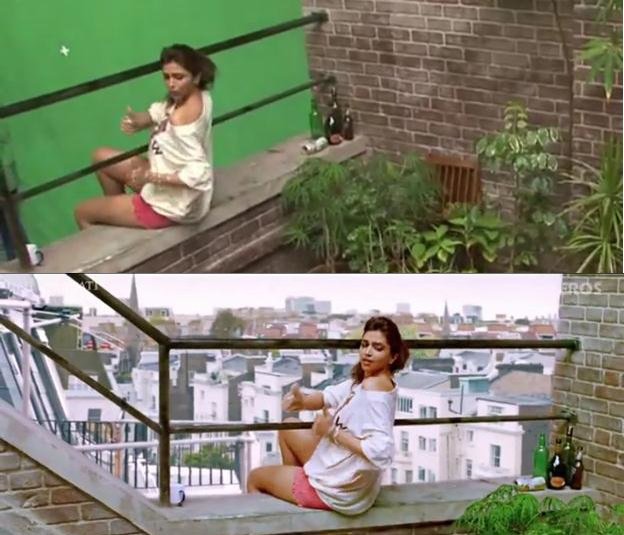 5) Badshah fans, remember the time we all held our breath when Shahrukh went all superhero mode while trying to save Kareena and swinging from one local train to the other and climbing their roof and what not? Well, our man was safe and sound because, as much as I hate to say this, that was all fake in the movie 'Ra.One'. He is still my superhero though!
6) Aeroplanes are expensive and the makers of Special 26 happen to know about it so when they had to show an airplane in one of the scenes, this is what they did. Smart, aren't they?
7) The romantic track 'Tere Naina' from 'Chandni Chowk To China' showed us a breathtaking scene as Akshay and Deepika flew on an umbrella all across China, right? Now, we all know that's not possible but well, the Khiladi can do anything and he really did that! Nah, we are kidding. Here's how the scene was made.
8) The entire stadium cheered for Milkha as he ran the race and wouldn't it break your heart if I told you that even though there was a stadium, there was not a single person watching that race! Yeah, they made that crowd. Hey, we cheered in the cinema halls, didn't we?
9) Bhai and Asin hung to a branch for their lives in 'Ready' because they definitely didn't want to fall down hundreds of feet losing their lives. Must have been risky to shoot or maybe not. Hey, Bhai still roxx, okay?
10) Shahrukh romancing Deepika in 'Chennai Express' shows why he is the king of romance because despite the fact that were was no view, no sunset, no orange sky but just a green screen, he convinced us how beautiful things around him were. All hail technology and the king of romance.
Hey, don't let this kill the Bollywood vibe for you. We are always going to believe everything that we are shown on the screen because movies are what taught us to dream and don't let the reality take your dreams away. Let's not forget to appreciate technology though!
Do you know a movie that changed everything about it through technology? Share your views with us in the comment section!
via 10 Before And After VFX Scenes In Bollywood Films That'll Leave You Impressed